ezBook™ by ABC is a robust, online booking portal to give non-GDS agents access to 200,000+ hotels worldwide.
When I first spoke with ABC Global (parent company to eBook™), they were preparing to roll out new services and major upgrades. Among other projects, they were ramping up marketing for ezBook™, an online hotel booking portal for non-GDS travel agents.
We coordinated on their email marketing, or ezTips – biweekly email insights for their affiliate agents. The bottom line: write witty subject lines that get opened, and pack useful ezBook™ info into friendly emails.
The Final Product
These ezTips were a lot of fun to create. Here are a few of my favorites: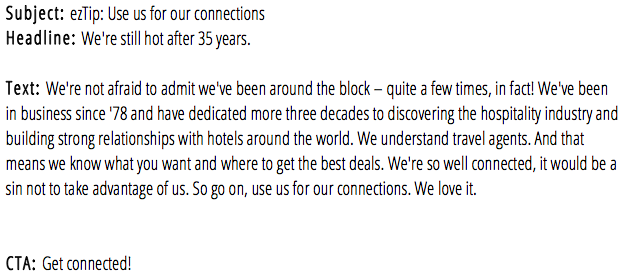 Have a project in mind?
I'd love to discuss your upcoming writing project. Please call or email for your free consultation.