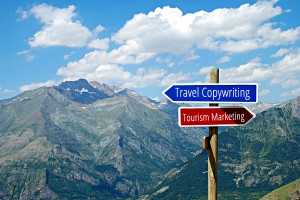 Are you bouncing in your seat right now? Anxiously completing all your pre-Turkey Day tasks before you go home to friends and family? Then in the interest of giving thanks sooner rather than later, here's the best of the week, short and sweet. Read, learn and then get the heck out of the office. See you next week.
Happy Thanksgiving!
Travel Copywriting & Content
Is your content creation strategy ethical?
If you're unsure about content creation – what is it and how do I do it right? – you may also be wondering about the ethics of curation. Pawan Deshpande, of the Content Marketing Institute, boils it down to 10 simple steps:
It's fine to excerpt a short section of an original content piece to give readers a feel for it (this generally falls under the category of fair use). But quoting long excerpts gives the reader very little reason to click through and read the full article — plus, it could blur the lines between fair use and copyright infringement.
Check out all of Pawan's ethical curation guidelines.
Your Website (and Blog): How Consumers Find Hotels Today
You probably don't question the need for a website, but maybe you're wondering about a hotel travel blog. Or your company's social media presence. Well, guess what? The digital landscape has completely redesigned the process travelers use to find hotels. Details Tambourine,
According to the U.S. Travel Association, the Internet was used by approximately 90 million American adults to plan travel last year. Among FITs (individual travelers over the age of 35 who avoid packaged tours), the Internet is almost exclusively their source for information gathering and trip-planning.
Read more about the changing ways consumers are finding hotels.
A Travel Blogging Success Story
There's nothing better than a great success story, is there? Take Karen Barnert, a vacation rental owner, who wrote one escort antalya blog post that funneled 2,000 visitors to her website, got her mentioned in the Huffington Post, and garnered an email from National Geographic. Before she had even written five posts! VRMB has the details:
The next thing she knew, the story of Pancho went "viral" and Karen's vacation rental website along with a quote ("I don't even care that I was misquoted!") was featured in The Huffington Post.
Creating Slideshows that Rock
Erik Devaney of Hubspot has a great step-by-step tutorial on creating slideshows that travelers actually want to click through. And it's not just about pretty fonts: you need tantalizing titles and great text that tells a story:
When you present a PowerPoint presentation to a live audience, you have the benefit of being able to explain what is on each slide. You can also use slides to illustrate points or arguments that you are making verbally. You can't do that with a SlideShare presentation.
Now go forth and create well written, killer slideshow presentations.
[Valuable] Content is Still King
Great content keeps your readers coming back. It's engaging. And it's valuable. It delivers expertise or shines light on a topic. But it's not easy to create – or, at least, not unless you understand the basic tenets of creating valuable content. The Freelance Copywriter's Blog enlightens us:
Just because your online marketing strategy demands content, it doesn't mean any old thing will do. And definitely not something that was out sourced to a far-flung part of the world for a couple of dollars.
Be relevant with valuable content.
Tourism Marketing & Social Media
Pinterest Adds Places
In what may be the most pinteresting (sorry, couldn't help myself) news yet for travel marketers, antalya escort bayan Pinterest has added not just price tags but place tags. That spells great news for hotels, restaurants, tours & attractions, and other travel businesses. Jessica Lee, of Search Engine Watch, explains,
Yesterday, we reported the value of a pin was worth 78 cents to a publisher; that value may have just skyrocketed as brands in the hospitality industry can now feature their hotels, restaurants, and bars to Pinterest's new Place Pins – an interactive map for the places people want to visit around the world.
Read all about Pinterest's new place pins.
TripAdvisor Integrates with Bing
Ranking well in the search engines often feels like a bit of a scramble – a bit of this and a bit of that, linking, blogging, and listing here, here, everywhere. But if you're on TripAdvisor, your SEO strategy has just gotten a bit easier: the listing giant is now integrated with search engine Bing. Techcrunch's Matthew Panzarino explains,
TripAdvisor puts a nice notch in its belt today with a Bing integration deal that places its results front and center on search results pages. The deal marks the first time that TripAdvisor has lent its metasearch data, gathered from over 125M reviews across 3.1M locations, to a search engine.
Find out more about TripAdvisor's integration with Bing.
Have You Heard of the "Mobile Wallet?"
The future is now, grasshopper. Sooner than you might think possible, our mobile devices (i.e. smartphones) will become currency, allowing consumers to purchase tours, hotel rooms, even restaurant fare. Tnooz advises to get on board before your competition does:
According to Gartner research, mobile wallet payments were roughly $171.5bn in 2012, a 62% rise from $105.9 billion in 2011. In 2012, roughly 212 million people worldwide made mobile payments, up 32% from nearly 160 million users in 2011.
Learn more about the mobile wallet & the travel industry.
Convert Lookers to Bookers
Love the title, love the concept: Converting website window-shoppers ("lookers") to clients ("bookers"). We all want to do that, and e-Marketing's Renee Radia has some tips on how to do it with updated, kickass photography:
Showcasing a hotel on both the desktop and mobile websites is imperative for converting lookers into bookers, increasing engagement, and simply remaining competitive in today's photo-driven world!
Get the goods on leveraging photos to get bookings.
Climb to the Top of TripAdvisor
No doubt, TripAdvisor is key to the success of many travel businesses. Hetras has the deets on how to get to the top:
TripAdvisor's Popularity Index is based on quantity, quality and recency of customer reviews, so the marketing goal becomes obvious for hotels: get more, better and up-to-date reviews, which studies show impart the most powerful sense of value for consumers.
Climb to success at the top of TripAdvisor.