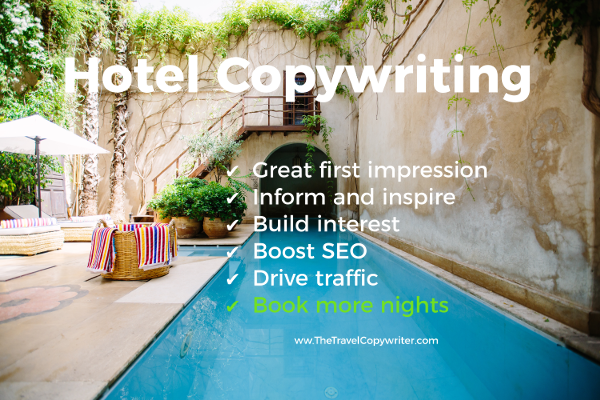 Hotel copywriting – the good kind, at least – is more than words on a website.
Your website is your first impression. It's your calling card. And make no mistake – travelers do judge a book by its cover. Yours must be exceptional.
Hotel copywriting as much an art as a science: It blends the emotional appeal of travel with the science of selling. Yes, your website should be a showstopper. It should be well written. It should inspire travel. It should be informative. And it should have personality.
But it must also be razor-focused on the bottom line – bookings.
I understand the art and science of results-based hotel copywriting. I know how to write copy so convincing, travelers can't imagine staying anywhere but with you. I know how to build an emotional connection that turns interest into bookings.
Hotel Website Copywriting
Whether you're building a brand-new website or are just refreshing some stagnant copy, you have a job ahead of you. Do you know what to write and how to write it, in order to maximize bookings?
I do.
Together, we'll work to define your guest personas. We'll explore your hotel's features, and turn them into benefits. We'll scope out the competition. We'll talk about your reservation lifecycle and upselling opportunities. We'll define what makes you, you. And we'll create the messaging to match.
We'll talk brand voice and value propositions. We'll discuss site layout and calls-to-action. We'll roll up our sleeves and really get into it.
And then, I'll write a website that speaks directly to prospective guests. A website rich with imagery that inspires travel (and reservation add-ons). A website that books more nights and hotel services.
Email Me About Hotel Copywriting
Content Marketing: Blogging, Email & Other Marketing
Blogging. Email lists. Newsletters. Free travel guides. Opt-in downloads.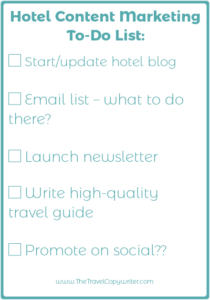 Successful hotels know, content marketing is not optional. It can mark the difference between flagging reservations and booking solid.
It can also be overwhelming.
That's where I come in. If you're not sure where to start, or how to proceed, or are just low on time, I make it easy. So, let's discuss the options. Let's talk implementation. Let's brainstorm how to build guest interest, improve your SEO, encourage social sharing, and drive traffic.
Let's talk effective, affordable content marketing for your hotel. Let's get more bookings.
I offer fully customized, individual or monthly blog packages, newsletter content, email marketing (drip campaigns, sequence emails, etc.), and other copy for your hotel.
And best of all, I promise to make it easy. That means no hassles, no stress, no last-minute rush to get your content out. Just sit back and relax, and leave the writing to me.
Hire a Professional
A professional hotel copywriter knows exactly how to craft inspiring text. She understands SEO and how to weave keywords seamlessly – and naturally – into your copy. She understands that good writing is nothing if it doesn't get more bookings. And your hotel deserves nothing less.