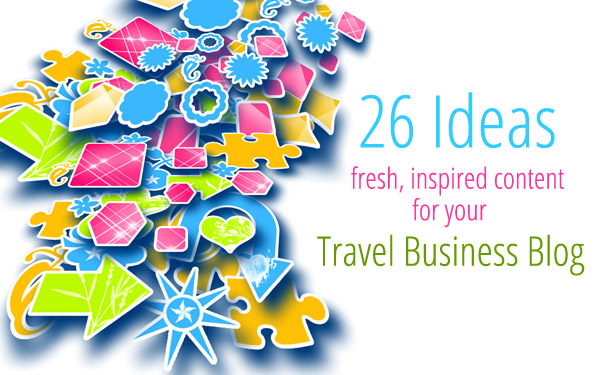 (Update: After you're done here, see the second version of this post, 26 Inspiring New Ideas for Your Travel Blog Content.)
Whether you're a hotel, travel agency, tour operator, or other hospitality vendor, your travel business blog should always be engaging. Your goal is to nourish relationships with past clients and to build escort diyarbakır new connections with potentials. And to do that, you have to produce what's known as "evergreen content." Like a cypress tree, evergreen content stays fresh and interesting year-round. It's timeless. For you, that means blogging about topics that will always interest travelers – not old news or your participation in the latest industry conference.
Understanding evergreen content is one thing, but producing it is quite another. If your company's travel blog is active – that means you post at least once a week, minimum – you need to craft 52 fresh, engaging posts a year. After a year or two (or hell, even a month or two), you might think you've run out of ideas. So here are a few of my favorites – half a year's worth, in fact! – to pump up your posting schedule and put a spark back in your content creation.
26 IDEAS FOR FAST, EASY & EVERGREEN CONTENT
List Posts: Everyone loves a good list, and travelers are list fanatics. A Top 10 is easy to pull together, but don't box yourself in to just "top" lists – expand into other types, like 5 Iconic Animals of Belize or 3 Hidden Waterfalls in Montezuma.
How To's: Alone in a foreign diyarbakır escort land, there's a lot of "what ifs?" and uncertainties travelers need answered. Be their beacon – the guru with all the answers. Examples: Everything Your Need to Know to Navigate the Streets of Rome or How to Find an Authentic Hawaiian Luau.
Best of: Like lists and how to's, best of posts are always a hit. You can take this from basic, like The Best Spots for a Caribbean Sunset in Costa Rica to pinpoint specific, like The 3 Best Ceviche Stands in Puntarenas. 

Mini Travel Guides: You're the local expert, and an online travel guide gives you the chance to showcase your knowledge. You can do a general guide post, like An Introduction to Granada, Nicaragua, or you can even create a weekly series: Places to See in Granada, Colonial Churches of Granada, Scenic Viewpoints of Granada, etc.
Upcoming Holidays: Grab the calendar and mark down the year's most interesting holidays – especially the ones that draw tourists. Post about the holiday's history and cultural significance, and highlight local festivities.
Hotel Spotlights: Hotel spotlights work for more than just travel agencies. If you partner with hotels, or have friends or acquaintances with an exceptional offering, show a little link love. Obviously, only highlight places you've vetted personally and that you'd recommend to your closest friends.
Tour or Attraction Spotlights: Like a hotel spotlight, highlighting a nearby activity or attraction, whether you sell it or not, is a great way to engage your readers. Travelers travel, and you can help guide them where to go.
Themed Roundups: There are infinite themes you can cover in your posts, from The 10 Most Romantic In-Room Fireplaces in Virginia to 12 [City] Restaurants with Rooftop Dining. These work really well when you tease out an unusual element – just think of difference between 10 Romantic Hotels in [City] and 10 Romantic [City] Hotels with Five-Star Room Service.
Packing Lists: You can tailor these to traveler type, like Packing List: Essentials for Adventure Travelers in Costa Rica or Packing List: What to Take for a Family Vacation in Costa Rica.
Useful Travel Apps: This one walks the line between evergreen and not, since apps come and go. Make sure to update this type of post every 6-12 months, and when you do, add a blurb to the beginning of your old post with a link to the new. (Something like, Hey techy traveler, we're glad you stopped by! Please see our updated list of the most useful travel apps – 2013 edition!)
Language Guide: Everyone loves to learn some foreign lingo. You can create a crash-course in the local language, or even produce a monthly series with themed language posts: Nicaraguan Spanish: At a Restaurant or Crash-Course Italian: Lingo for Cruising Venice's Canals. Slang guides are a perennial favorite.
Q&A or FAQ: If you get a lot of blog comments (or emails in your inbox), consider answering them in a blog post. You can also create your own list of travel-based FAQ, and answer questions about potable water, required vaccines, etc.
Photo Slideshow: Chances are, you have great photos of sights, activities, hotels and other points of interest. Install a slideshow plugin and showcase those images!
Expert Interview: Whether you're a travel agency or a local business, interview a local expert – a travel agent, hotel manager, etc. – about your area. Be sure to ask job-related questions, like "What is the most popular activity in [city]?" or "What is your favorite part of the job?"
Travel Stories/Trip Diaries: If you've taken a FAM trip or CPL lately, parlay the getaway into a post (or a few) about your day-to-day activities.
Recipes: Posting traditional recipes and and spotlighting local ingredients (think exotic – things your travelers don't often eat at home) add flavor to your blog posts.
Special Deals & Discounts: It's okay to be self-promotional once in awhile, but don't try to hide the fact that you're advertising a service; it comes off as disingenuous and will turn travelers away.
Customer Testimonials: Client testimonials are awesome: they're real, they're engaging, and they're a natural way to sell your services. Present your client's story, and then let his or her words do the talking.
Video Montage: If you ever record video, throw together some of your favorite clips into a themed video.
Company News: Save new hirings for press releases; this kind of blog post is about news that affects your customers: when travel agencies sign with a new hotel or tour companies offer a new day tour.
Tips & Hacks: Everyone wants to travel better, smarter and easier. Let your local guru shine through with your best tips, like 5 San Jose Airport Hacks for a Smoother Flight.
Awesome Travel Gear: Globetrotters love their gear, and are always searching for the newest, coolest gizmos to improve their travels. Show them your favorites, and tell them why you love them. (But do not link with affiliate links!)
Local Legends: Many travelers are interested in local culture, and legend and lore is some of the most enticing. You can even pair legends with upcoming holidays or seasons. For example, Costa Rica's version of La Llorona is perfect for a Halloween post.
Life Lessons: Travel teaches us some pretty awesome, incredible things about ourselves. Share a few of your favorite tidbits, like The World's Worst Cup of Coffee – And What it Taught Me About Life's Precious Moments or How a Summer in Costa Rica Changed My College Major – And My Life! 
Bucket Lists: Create a bucket list of activities – things everyone should see and do before they die – for your location.
Humorous Posts: Everyone loves a good laugh once in awhile. If you have a well developed funny bone, infuse a bit of humor into your blog. Just make sure to keep posts light and fun, not heavy on complaints or off-putting imagery – think The Grossest Foods I've Ever Eaten – And Loved! not Food Poisoning: A Portrait of Puke from Around the Globe.