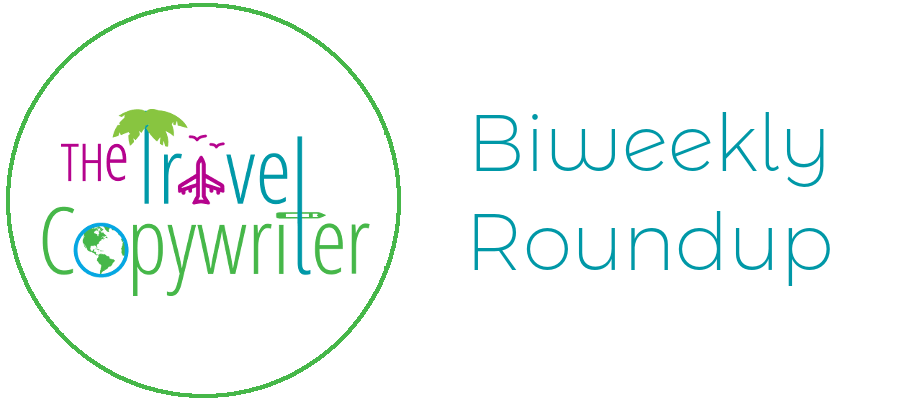 They're baaaack! (I hope you just read that in a Poltergeist II voice.)
Yes, The Travel Copywriter blog and my bi-weekly blog roundups – that'd be, travel copywriting and marketing tips, advice, and insights from around the blogosphere – are back in action. And I'm pretty stoked about it.
It's been a busy few years for me, and while I haven't been blogging, I have been listening. I've been keeping up-to-date with the latest copywriting, SEO, marketing, and other related happenings in the travel industry.
That's why I know it can be overwhelming. There are simply so many experts out there, with so much free (and wonderful) advice, that it'd be a full-time job just to read it all. So, that's the idea behind these roundups: If you don't have time to read it all, just hang with me. 
Every two weeks, I'll post a quick roundup of my favorite recent reads: copywriting, marketing, SEO, and other stuff important to the travel industry. I won't link-bait you; there will always be enough info to determine whether you want to click for more information. And I'll keep it short and sweet, with just a short summary for each article, followed by my thoughts (but only if necessary).
Now, let's get to it:
1. Get More Social Shares
If you're in travel, you use images. Lots of them. But, did you know a few small tweaks to your images could snag more clicks and more shares? Travel Research Online brings us some great, simple and, most importantly, actionable research into the psychology of images and social sharing – specifically, how to get more shares for your travel images.
2. Are You Marketing to Bleisure Travelers?
Nope – not a typo. Tnooz is talking about a new travel movement dubbed "bleisure," which is exactly what it sounds like: the intersection of business and leisure travel. The essential question is, are you marketing to this growing segment of moneyed travelers – a huge jump from 3% in 2015 to 17% in 2016 – who book leisure travel with antalya escort a business component?
(Note from Erin: If not, get your foot in the door NOW. Be one of the first hotels / B&Bs / inns / other business travel accommodations to market bleisure travel for your destination and/or market.)
3. Jumping Ship: Brands Flee Snapchat for Instagram
When you're a small- or medium-sized travel business, you prioritize. You simply don't have the time or the budget to be everywhere online at once. And that's why you'll want to know what HubSpot already does: brands are leaving Snapchat in favor of Instagram stories. Why? There are many reasons, among them better audience targeting (= reach the right traveler), more discoverability (= let travelers can find you), and greater scale (= potential audience, as Instagram has 700 million users).
4. You Can Add Links to Your Instagram Stories
And speaking of, did you know you can now add swipeable links to your Instagram stories? Social Media Examiner reminds us to use trackable links (like those tied to your bit.ly account), so you know how many swipes you're getting, and to use your Instagram link opportunities effectively: not every story needs a link, and those that do, don't need to link directly to book, book, BOOK! pages; instead, link to new blog posts, updated room descriptions, or other information pages that complement your story.
5. Instagram Inspiration
While we're [still] on the topic of Instagram, WordStream just reviewed 13 of the best Instagram ads ever. And, while you may not have the equipment for professional-quality photos, or the budget for huge Instagram ad campaigns, chances are these examples will inspire your own Instagram efforts. Remember – it's not always about having mersin escort the sharpest photo or clearest view; it's about telling a great travel story through photos.
6. Updating or Building a Vacation Rental Website? Know This.
Cottage Blogger recently published a short-but-helpful podcast episode on what your vacation rental website needs – and what it doesn't. Heather's conclusion, in particular, really resonates with me: "You can provide a huge amount of content on your website. You just have to make it accessible for the people who want it, but not too cluttered for the people who don't."
7. Two-Minute Website Review: Don't Leave Travelers Guessing
Who doesn't love a tip you can execute (or start to execute, at least) in two minutes? Hotel-Online offers just that with a quick "two-minute tuneup" for your hotel (or vacation rental, or travel agency, or …) website: don't leave travelers guessing what to do next.
(Note from Erin: The easy answer is to be sure that every piece of copy you write, every blog post you publish, every email newsletter you send ends with a call-to-action. Don't fall into the trap of thinking that CTAs are pushy or annoying; they're not. Just the opposite, in fact: Your calls-to-action help interested travelers do what they already want to do, with minimal effort: book, make an inquiry, contact you, or even navigate to other sections of your website.)
8. Quit Targeting "Millennials"
If you think your target audience is "Millennials," now would be a good time to rethink your personas. Search Engine Watch offers up this brilliant analogy: thinking that "Millennials" – by the way, a generational designation that encompasses an estimated 75.4 million in the U.S. alone – share a universal set of attributes (travel wants, needs, pain points, etc.) is like thinking that you can use astrological signs to market directly to Geminis.
(Note from Erin: Instead of focusing on a generational audience, hone your marketing the right way with clear and detailed personas.)
9. Social Media for Traveler Loyalty
The trap we often fall into, is in thinking that social media's primary purpose is to get bookings: If people aren't clicking your Facebook ads and immediately booking, then your social strategy isn't working. Right? Wrong, at least in part.
Social media is key in building customer loyalty, allowing you to regularly interact with travelers (and see what images and experiences most pique their interest) and re-share your best content (which should be optimized with CTAs to direct bookings, contact, and other goals), among other benefits.
10. Local SEO is Important for Travel
SEO rockstar Yoast interviewed other SEO rockstar David Mihm about local search, and the insights are very relevant to the travel industry. I appreciate that they call out three things you can do to improve local SEO with a limited budget: focus on your website, build offline relationships (whoa), and work on getting great reviews. C
(Note from Erin: "Local SEO," in case you're gaziantep escort unaware of the exact term, refers to Google search results for a given location. Ex. Google "hotels in New York City," and you'll see a map with location pins; that's local search.)