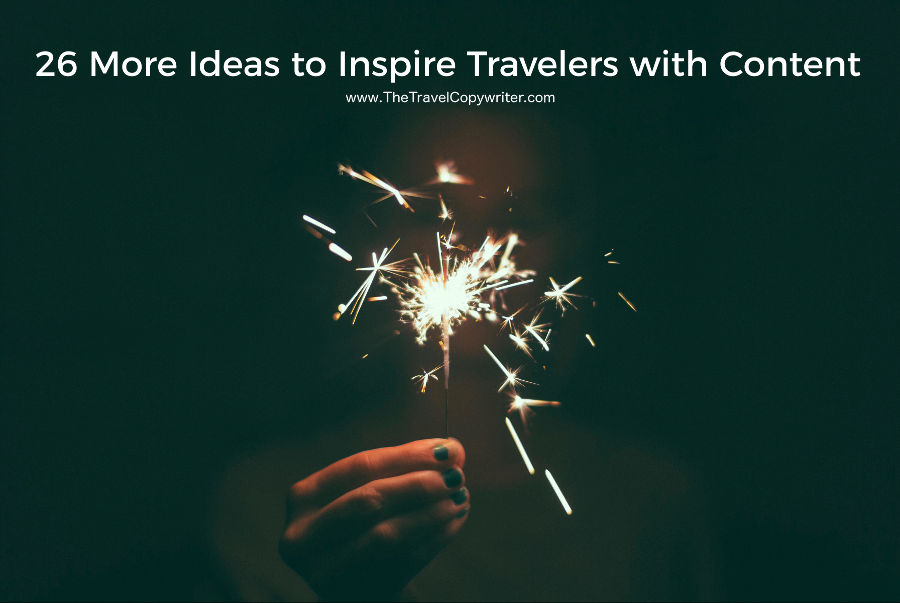 It's been nearly four years since I published the first version of 26 travel blog ideas to inspire travelers, and it's still one of my most popular posts.
I hear you, Internet – loud and clear.
You crave travel blog ideas and content marketing inspiration. More ideas. Fresh ideas. You want ataşehir escort your hotel content, your vacation rental website, your local travel agency blog to stand apart. You want to be the best in your niche.
Great thinking. But first, let's talk a little bit about SEO.
SEO and Travel Content Marketing
I said a little bit, so I'll make this short. SEO for the Average Joe is not rocket science.
Simply put, SEO is about writing what your audience wants to know. Well, the good, white-hat kind of SEO is about that, at least. So keep this at the forefront, always: What do travelers want to know about your destination?
With this in mind, think of keywords. Instead of writing a blog post titled 5 Kid-Friendly Activities for Fall, try What to Do in Philly: 5 Kid-Friendly Activities for Fall. Write your meta descriptions this way, too.
Why? Well, think about how you search for information on unfamiliar destinations: You don't type a generic "kid-friendly activities in fall" into the Google search-bar. No, rather you search for "things to do with kids Philly fall," or "what to do in Philly autumn kids," or "kid-friendly fall activities in Philly."
We'll talk more about SEO in future posts. But for now, bottom line: Always, ALWAYS write for people first. Just keep those kadıköy escort search engines in the back of your mind, too.
Now, moving on to those ideas…
26 (More) Travel Blog Ideas for Guest-Inspiring Content
Current Events of Interest: Travel-related events occur year-round, in every destination. Blog about national/state/county parks opening for the season. Post when new restaurants, or new golf courses, or new wineries, or new anything is announced. If past guests have done it, repeat and future guests will be interested.
Wheelchair-Accessible Travel: Accessible travel is important. If your hotel, vacation home, or travel offering caters to wheelchair travelers, then you can (and should) blog about accessible sites, activities, and attractions.
Recent Meals: Everyone loves a good food photo! Tempt travelers with mouthwatering photos from your favorite local restaurants. (Psst! Check out this beginner's guide to food photography.)
Safety 101: You have your guests' best interests in mind, so why not post a few location-appropriate safety guides? If your hotel is located in the American Northwest, write up a Grizzly Bear Safety 101; if you're located in tropical Costa Rica, you could post a guide to Ocean 101: Watching Out for Rip Currents.
How Does Your Garden Grow?: A few times a year, post garden updates. What kind of produce is growing in your hotel's garden or vacation rental's backyard? What flowers are in bloom in your neighborhood, along the beach, at a local park, or on favorite walking trail?
Activism Opportunities: A growing group of socially and environmentally conscious travelers not only wants to see and experience a vacation destination, but also wants to help. Does your area have any adopt-an-endagered-animal or adopt-an-ecosystem opportunities?
Favorite Souvenir Shops: Most travelers like the idea of souvenirs, but aren't tempted by the cheap tchotchkes common to many souvenir shops. Why not post a run-down of your favorite local providers and souvenir ideas: locally made (shelf-stable) food products, authentic or cultural memorabilia, and other useful and/or memorable goods.
Long Answers to Frequently Asked Questions: Here's a topic where great content and SEO intersect perfectly: What kind of questions are you always fielding from guests? Write about them: The 7 Best Spots in Tamarindo to Watch the Sunset, or Costa del Sol Day Trip: Morocco in 12 Hours, or How (and When) to Snag the Cheapest New England Patriots Tickets.
Seasonal Hikes: If your destination (or anywhere within a reasonable distance of your destination) offers decent hiking, shout it from the rooftops! Post the best hikes/hiking trails for every season. If you're in a cold clime, swap winter hikes for the best snowshoeing or cross-country skiing trails.
Leveled Hikes: Speaking of hikes, let's squeeze every last bit of juice out of this idea: Publish guides to the best beginner, intermediate, and advanced hiking trails in the area. (These ideas also work well for biking and horseback riding trails, if applicable.)
Dog-Friendly Businesses: If you own or manage a dog-friendly vacation rental, hotel, or other travel service, give your fellow businesses some love! Post a round-up of area restaurants, stores, malls, parks, trails, and other amenities that welcome your guests' four-legged friends.
Short & Specific Itineraries: Between longer trips, travelers dream of quick getaways. Fuel that fire with short itinerary ideas, like Your Guide to Valentine's Day in the Poconos, or a Long Weekend Leaf-Peeping: 3 Days in Vermont.
Local Races: Destination races – 10Ks, Half-Marathons, Marathons, Triathlons, Ironmans, etc. – are a hot market. If you have them in your area, write about it.
Inclement Weather Guides: It's going to happen: Your guests will be snowed in, rained out, or otherwise affected by not-ideal weather. Show them how to make the best lemonade with Mother Nature's lemons.
Scenic Drives: Whether they're official National Scenic Byways or just your favorite lookout points, travelers will appreciate a local guide to the best, most beautiful drives in the area.
A Guide to Local Booze: Booze tourism – visits to breweries and microbreweries, distilleries, and (of course) wineries – is another growing niche. Position yourself right with the best, most robust, most current guide to all the local hotspots.
Pick-Your-Own Food: In the same vein, people love to pick uncommon-to-them (or simply seasonal) fruits and vegetables. Publish a comprehensive guide to all the seasonal pick-your-own places: strawberries, raspberries, blackberries, blueberries, apples, pumpkins, farm-fresh eggs, etc. etc.
Kid-Friendly Activities (with a twist): Kid-friendly is pretty done by now, at least for most destinations, so add in an irresistible addendum, like Philly for Families: 8 Kid-friendly Activities Adults Will Love, Too.
Tongue-in-Cheek Humor: This may qualify as clickbait, but it's clickbait with humor. Consider publishing tongue-in-cheek warnings about your destination, ex. 8 Reasons You'd Hate to Honeymoon in Costa Rica, followed by reasons like The scenery is hideous (accompanying photo: spectacular ocean views).
Month-Specific Reasons to Visit: Here's a 12-in-1 for you: 5 Reasons to Visit Vail in [Month]. Not only will this kind of post help fuel off-season travel, but it'll help you build a really great, year-round activities and attractions list for your website, visitors guide, and other offerings.
Destination Soundtracks/Playlists: Who doesn't love music? Play off that universal interest by promoting local artists, or songs that mention your locale, or just playlists based on specific interests (ex. Soundtrack to Spring: A Playlist for Early-Season Hiking in the Smokies).
Book Lists: Vacation and reading often go hand-in-hand. Inspire bookworms with books set in your destination or reading lists perfect for your place (ex. 5 Cozy Mysteries to Read by the Fire).
Local Arts & Crafts: There's something about vacation that inspires people to create. Build a great list of local art and craft workshops, like DIY pottery or national parks that offer nature art for kids.
Seasonal Food Guides: Part of the fun of a destination is discovering new food, amiright? Publish a guide to your favorite local farmers markets, indoor markets, street vendors, and other local can't-miss foodie stops.
Introductions to Traditional Dishes: And speaking of food, your destination probably has a signature dish or two: lobster rolls in Maine, artisanal cheeses in France, churrasco in Brazil. Introduce your readers to these dishes, and then show them where to find the tastiest, most authentic versions.
Art Exhibitions, Installations & Galleries: Vacation is often the only extended free time we have, which means we explore all the interests we don't usually have time for. Art is one of them, so tell your readers where they can find the best art, from cave drawings to modern statues, in your area.
4 Ways to Use This Information Right Now:
Ask around: Tap your peers, check out the competition, and şirinevler escort ask your social networks about what they write about. What are their best, most traveler-loved travel blog ideas? What content marketing efforts yield the most comments, the most shares?
Mine guests' past emails: Perhaps the most important thing you can do, malatya escort is to dig into your archive of guest emails for ideas on what travelers most want to know about your destination.
Start jotting down ideas: Don't worry about list organization or perfecting a promising topic – just start writing down all the content possibilities that come to mind. Carry a notebook with you everywhere. Only when you've exhausted your creativity, should you circle back to pick your favorites.
Ask questions (or comment) below: Let's start a conversation about better travel content marketing. Discuss the challenges you've faced, ask for suggestions, and share your a-ha moments.