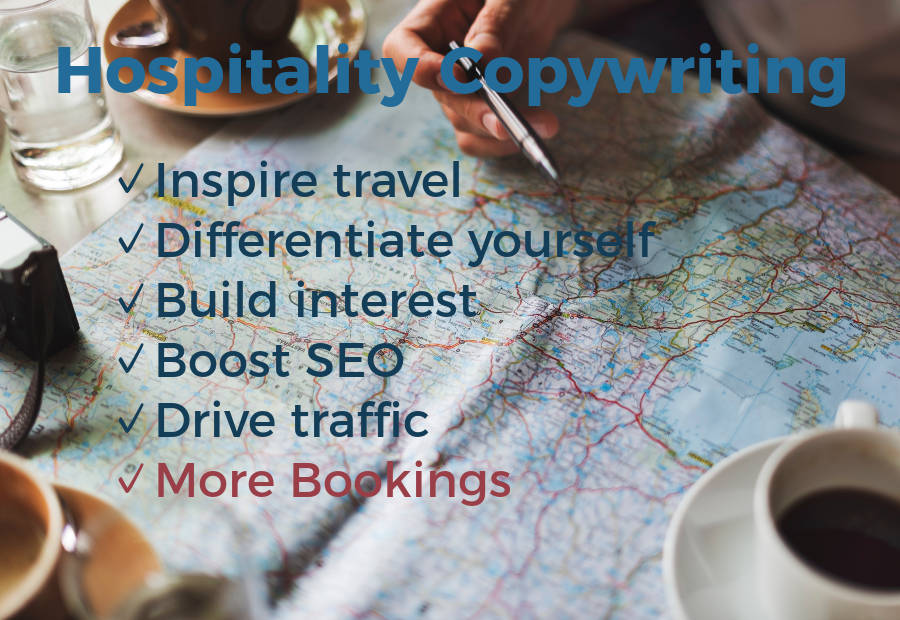 Travel agencies and tour operators have one of the toughest jobs in travel: you have to stand out from the crowd. (And it's a very competitive crowd!)
Your website acts as your first impression – your chance to differentiate yourself from all the others in your area. To showcase your expertise, your offerings, and your exceptional service. To show what makes you, you.
You already know your company is the best choice. But how do you convince strangers to book with you vs. one of your competitors?
With strong, bookings-focused travel copywriting, that's how.
Hospitality Copywriting for Travel Businesses
Whether you're building a new website or updating old copy, you have one goal: Drive inquiries and bookings. But, do you know how to do that?
I do.
Strong travel copywriting combines both the science of sales and the romance of travel. It answers a need. Fulfills a dream. It makes your vacation package, your expertise, your tour the answer to your client's unasked questions.
Let's work together to define your unique selling points. Let's understand your target audience. And let's explore not just the features, but also the benefits you offer. Let's talk brand voice and calls-to-action.
Let's create a site that effectively communicates who you are and what you offer. A website that inspires travelers to action with intriguing itineraries and unbeatable tours.
A site that gets more bookings. A site that sells itinerary add-ons. A site that doesn't just inspire travel, but inspires travel with you.
Email Me About Travel Copywriting
Content Marketing: Blogging, Email & Other Marketing
Travel agencies and tour operator know – content marketing is a must in today's competitive market.
Blogging and downloadable travel guides, email lists and newsletters, videos and email drip campaigns – this is the reality of marketing travel today.
It's a little overwhelming. But, that's where I come in.
Whether you're unsure of where to start, or are already eyeball-deep in content marketing, I'm here to make it easy. If you'd like be involved in every step of the process, that's perfect. If you'd like to set it and forget it, I'll make it happen.
So, let's explore the options. Let's talk bang for your buck. Let's discuss implementation. And then, let's brainstorm how to build interest, pump up your SEO, encourage social sharing, and boost traffic.
Let's leverage your content to get inquiries and drive bookings.
I offer effective and affordable travel copywriting and content marketing for travel businesses. We can build a totally custom package that suits your business, your goals and your budget. From monthly blog packages and newsletter content, to email marketing (drip campaigns, sequence emails, etc.), and other content efforts for your travel agency.
And remember, I promise to make it easy. To eliminate that frantic sense of overwhelm. To eliminate the hassles and the stress of producing regular, high quality content.
Hire a Professional
A professional hospitality copywriter knows exactly how to craft inspiring text. She understands how to weave keywords seamlessly – and naturally – into your copy. She understands that good writing is nothing if it doesn't get more bookings. And your company deserves nothing less.