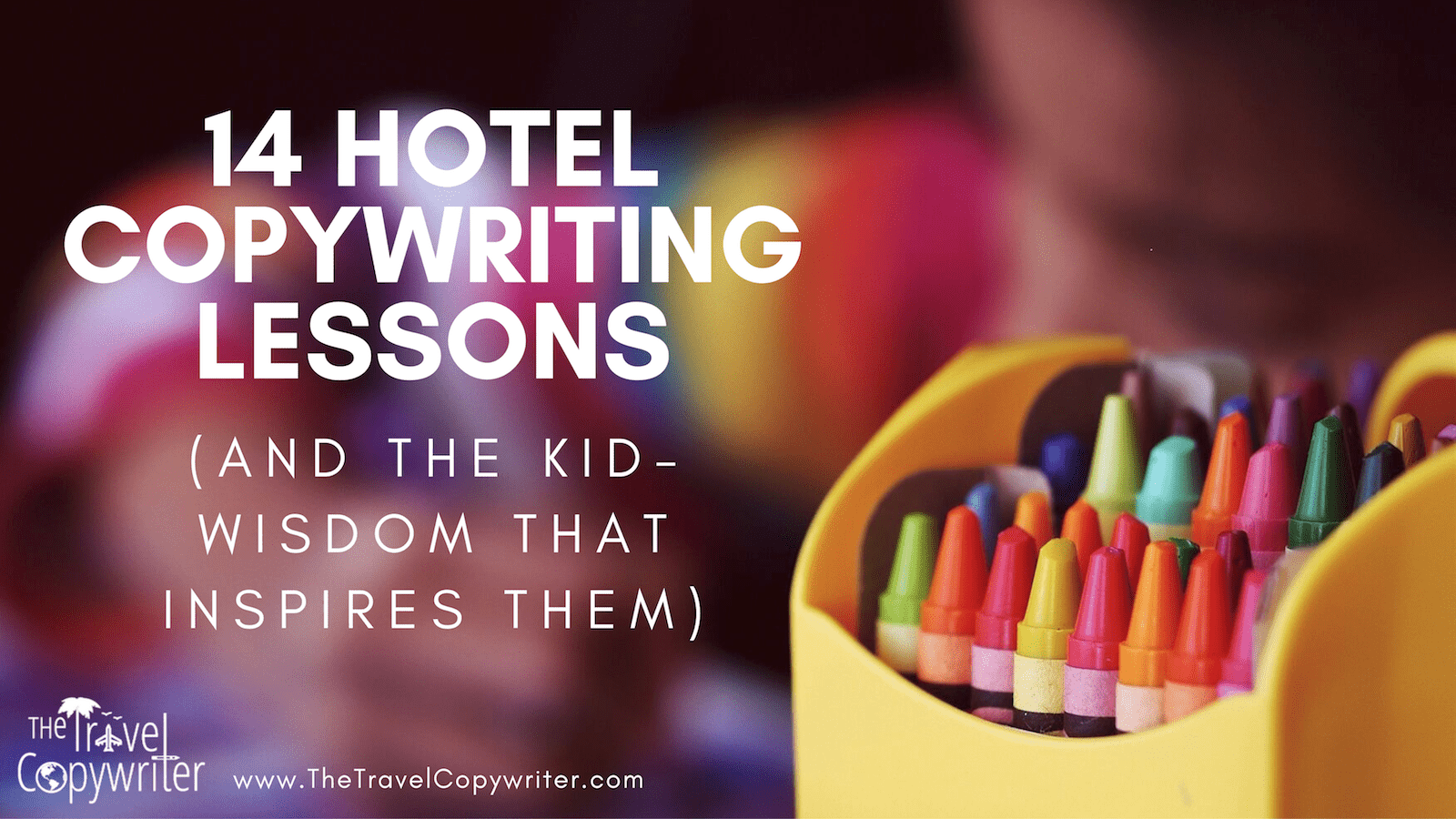 Anyone who has prolonged contact with the elementary set, knows: kids are compact, opinionated powerhouses of wisdom.
They know who they are, even as they grow. They are headstrong, yet willing to learn. They flirt with pushy, but (almost) never take "no" for an answer. At least, not the first no.
They learn from us. And, we learn from them.
So, I thought I'd have a little fun with this post: Inspired by my own little person – and all the lessons he has taught me, over the years – I thought I'd share just a few of the many insights he's provided into effective communication, human psychology, and the power of giving it your best shot.
From the importance of "no!" to the power of "why?", here's my take on a few lessons the world's youngest residents can teach us about successful hotel copywriting and travel marketing.
Quick Look:
Lesson #1: Always Ask Why?
Kids are great at asking questions. Most famously, "why?"
Why, indeed. Why? is a core element of great travel and hotel copywriting: If you can't answer why, then you need to go back to the drawing board.
Here's why (see what I did there?): Hotel copywriting is writing with purpose. You have a goal in mind (or, you should), whether it's to woo travelers or to get them to hit that Book Now button.
So, before you write a piece of copy, first consider its goal: What purpose does this copy serve? In other words, why are you writing it? This goal informs that specific piece of travel or hotel copywriting.
For example, the goal of your homepage is (probably) not to make an immediate sale, but rather to introduce travelers to your hotel and destination. Therefore, as you write your hotel's homepage, do it in a way that leads travelers down a logical path: see our rooms, get to know our destination, see what makes us different from the next guy. Know your copy goal, and you'll know what to write.
Bottom line: Before you dive into the what or the how or the when, always ask yourself, "why?" And then, answer that why, before you move on to the actual copywriting.
Lesson #2: Avoid the Passive Voice
I know – this one's a little esoteric. But, bear with me.
A 5-year-old probably can't define the term "passive voice," but I can (almost) guarantee she doesn't use it. Think about it: When was the last time you heard a kid say, "my toy was stolen by John!" Nope – kids get straight to the point: "John stole my toy!"
Powerful travel copywriting is all about being straightforward, concise and clear. More specifically, the active voice paints a more vibrant mental image – and is, therefore, a huge benefit to your hotel copywriting. Consider this:
"Wildebeests, by the millions, storm over the Serengeti – and the deep, bone-rattling rumble of six million hooves reverberates through your safari seat to imprint upon your soul. Long dreamed, the moment is finally here."
Versus:
"The Serengeti is covered in a storm of wildebeests, by the millions – your seat is reverberating with the deep, bone-rattling rumble of six million hooves, a feeling that will be imprinted on your soul. This moment was long dreamed of by you and now, it's finally here."
Which has more power? The first – the active voice. Not only is it more concise, but its active verbs also prod your imagination into multi-faceted, sensorial mental imagery. So, whenever and wherever possible, use the active voice. (Side note: The passive voice does have its place.)
Bottom line:  If you don't know whether to choose active or passive voice, read them both aloud and see which is more powerful. You'll make the right choice. And, that's always better than the right choice being made by you. [Wink, wink]
Lesson #3: Don't Obsess Over Perfect Grammar
Look. I'm not saying that good grammar isn't important. (It is.) What I am saying is that perfect is the enemy of good enough.
Kids aren't afraid to make mistakes. They say things like "I goed" instead of "I went," or "I won you" instead of "I beat you."
You shouldn't be afraid of mistakes, either. Trial and error is how we, as humans, learn. The more you practice good writing, the better you'll get at it.
Here's a hotel copywriting secret: My first drafts aren't perfect. I have typos. Sometimes, my written, rewritten, and rewritten again sentences get their subjects and verbs mixed up. My keyboard has a sticky n. But, I write anyway. Power through. Because, hammering out that first draft is good enough.
Bottom line: Do as kids do: Go for it. Perfect grammar is for your final draft.
Lesson #4: Why So Serious?
The professional world is not as serious as it once was.
Take this post, for instance. A mere 20 years ago, it would have been more Strunk & White than conversational. But today, in 2019, I can write like I speak. I can have a personality. I can sound like a real person, instead of a perfectly buttoned-up robot.
Kids know that serious often equates to boring. That's why we always try to "make learning fun!" It's basic human psychology: If something is fun, we're more willing to engage.
Humans, even of the adult variety, crave emotional involvement. We want to personally identify with what we read. Especially when it comes to travel. Travel is something we look forward to. It's something we enjoy. It's something we can't wait to do.
That's why your travel or hotel copywriting should never be boring. Your room descriptions shouldn't taste stale. Your destination descriptions shouldn't fall flat. Even when you're targeting the more serious business travel crowd, your copywriting should be vibrant and sensorial, conversational and emotionally relevant.
Bottom line: If your copywriting doesn't "ensnare the senses" (I see you, Professor Snape!), then there's something wrong. Add a bit of humor. Throw in some pizzazz. Loosen the tie and unbutton that collar. We're talking the business of travel, after all!
Lesson #5: Learn From Those Who Know
When it comes to bettering themselves, kids have a wonderful, admirable humility: they are willing to learn, wholeheartedly.
In fact, this is one of my favorite things about my own little person: he takes constructive criticism in perfect stride. Of all the lessons on today's list, this is the one I love the most, because it's applicable to so many areas of life – including my own travel and hotel copywriting.
When it comes to copy, take away the ego – "I already know how to write/what I want to write" – add in a strong desire to craft better, stronger copy, and you're well on the way to potent copywriting.
Don't be intimidated by the experts. Don't fight them, either. And, get excited; this is an opportunity to learn, grow, and continually improve your copy. In other words, to get better results out of your hotel copywriting.
Bottom line: You're never "finished" with learning. Your hotel copywriting can always benefit from improvement and your hotel can always benefit from a fuller calendar. And remember, if you don't have the time or the drive, you can always hire a hotel copywriter (that's me!).
Lesson #6: Be Your Best Self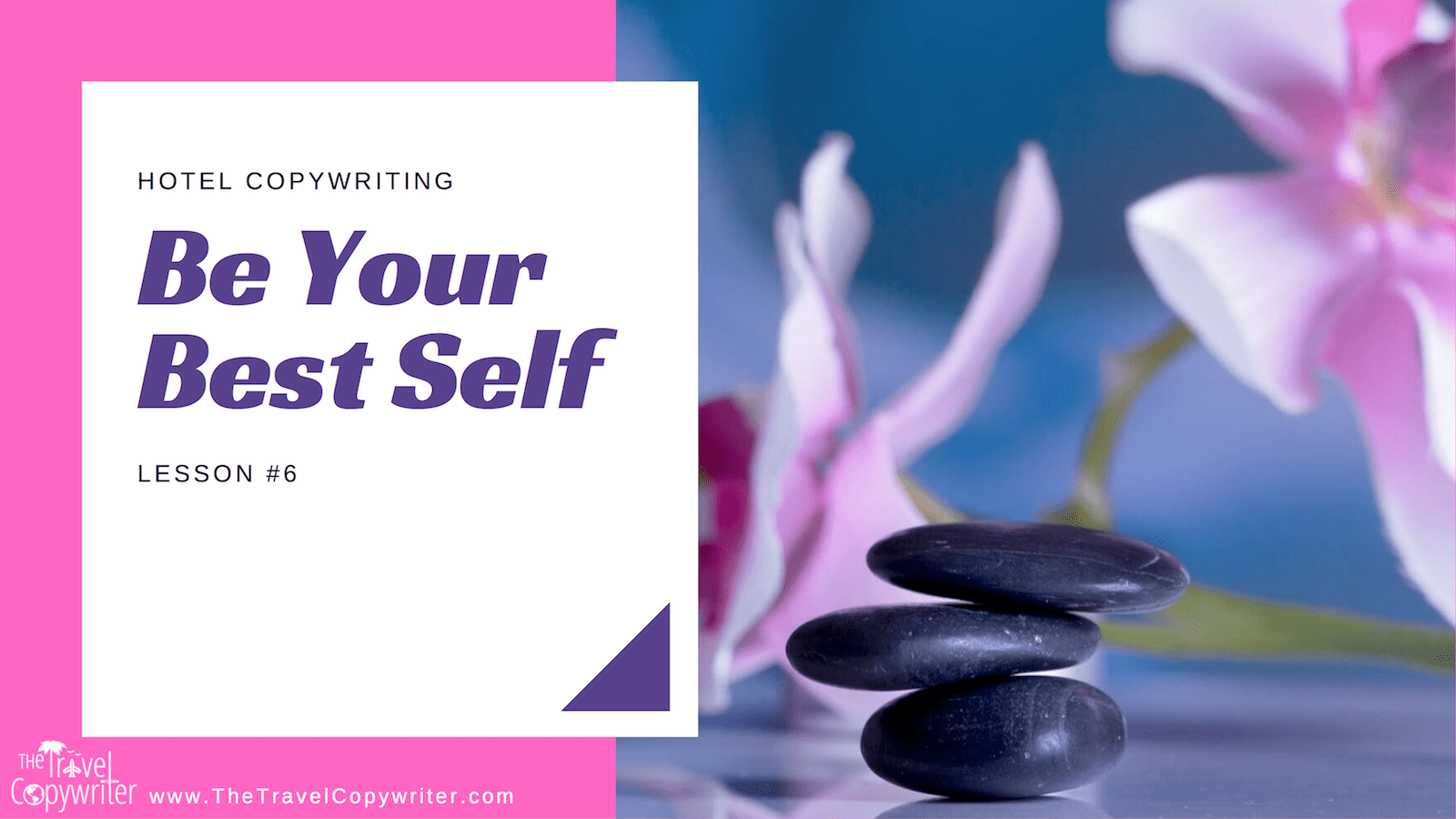 While we're on the topic of things I love about my own kiddo, I deeply admire his desire and constant drive to be the best version of himself.
Every day, kids make huge efforts. They strive to count higher, subtract more digits, or land more soccer goals than the day before. Kids, by default, strive to improve on their previous best.
Here's the tough, but real deal: your travel copywriting will never be "finished."
Not only will you require several version drafts, plus a final draft, but you should also review your published copy, at least once per year. Why? Because, things change. Consumer expectations evolve. Web conventions morph.
Bottom line: What qualified as "great" copy in 2017, may not work as well for your 2020 audience. If you want to keep your calendar full, then regular updates to your copy are a must.
No time? Need some help?
Update Your Travel Copywriting
Lesson #7: Embrace Your Inner Skeptic
Kids are the ultimate skeptics. After all, their job is to explore and understand the world. In that pursuit, they're constantly asking, questioning, and challenging the facts as we know them: Why do I have to eat my vegetables? Why does it rain? Why should I believe you?
Side note: Don't confuse this lesson with #1, above: Whereas Lesson #1 asks why you're writing what you write, Lesson #7 reminds you to put yourself in travelers' shoes: they also want to know why, but of a different sort.
Travel is a very specific beast: Unlike most products on the market today – say, a new kind of mop – travel purchases are expensive, don't usually carry a satisfaction guarantee, and cannot be tested prior to purchase (or returned, afterwards). From a traveler's perspective, they're high risk.
Travelers learn about you based exclusively on online reviews, descriptions and photos. As they read, they're looking for the why: Why should they choose you? 
Because, there's a lot of choice out there – a dozen, a hundred "comparable" hotels. What sets you apart from all those "comparables?" Because, trust me, only you truly understand why they're not comparables. Without good copywriting, you're just a list of similar amenities.
So, always, the question is why: What makes your hotel different? Your hotel copywriting should ALWAYS tell travelers why they should stay with you.
Bottom line: Be convincing. Offer proof. And be sure the traveler's why? is clearly answered.
Lesson #8: Throw Yourself Into It
You know how kids throw themselves into things?
You know who I mean: the kids who read a full graphic novel series in a weekend. The teens who power through an 18-hour PlayStation marathon. The enthused post-birthday girl who completes a 1,000-piece Lego set in a weekend. Kids are excellent at obsessing over the things they love – the things they want to perfect.
We can learn from kids.
Have you ever heard of NaNoWriMo? Short for National Novel Writing Month, NaNoWriMo encourages aspiring novelists to just write. Go for it. Seriously – just WRITE. Don't worry about being perfect. Just write!
Copywriting is a bit like this. Don't get caught up in analysis paralysis. Just write. Carve out a couple of days – full work days – to sit down and power through it. Just write. Don't worry about being perfect. Just write.
Bottom line: Obsess over your hotel copywriting. You won't keep everything you write, but you'll keep some of it. And some of it will be great. Do this a couple of times a year and, slowly, you'll build a site that hooks and books travelers. That's copy that converts.
Lesson #9: Provide an Incentive
Kids know that the hard stuff is better when it comes with a reward. They earn a free book-of-their-choice from a challenging (but awesome) summer reading program. They get a lollipop after a tough visit to the doctor's office. They earn privileges through good behavior.
People, small and big, appreciate a good incentive. Incentives help us get over our objections. Incentives make it easier to say yes.
If you think that your simple travel calls-to-action – Contact Us, Book Now, Inquire – aren't the hard stuff, then think again: taking that first step can be the biggest leap a traveler will make.
Your job is to get them to make it.
So, employ easy, why-wouldn't-you-take-them? incentives: Offer a niche travel guide in exchange for an email address. Make your availability calendar visible online, in real time. Display your current discounts in a prominent location. Offer online chat, a contact form with minimal requirements, or other ultra-simple method to get in touch.
Bottom line: Incentives make the world go round. Make it easy for travelers to say "yes" to your hotel. Make it impossible for them to say no.
Lesson #10: Practice, Practice, Practice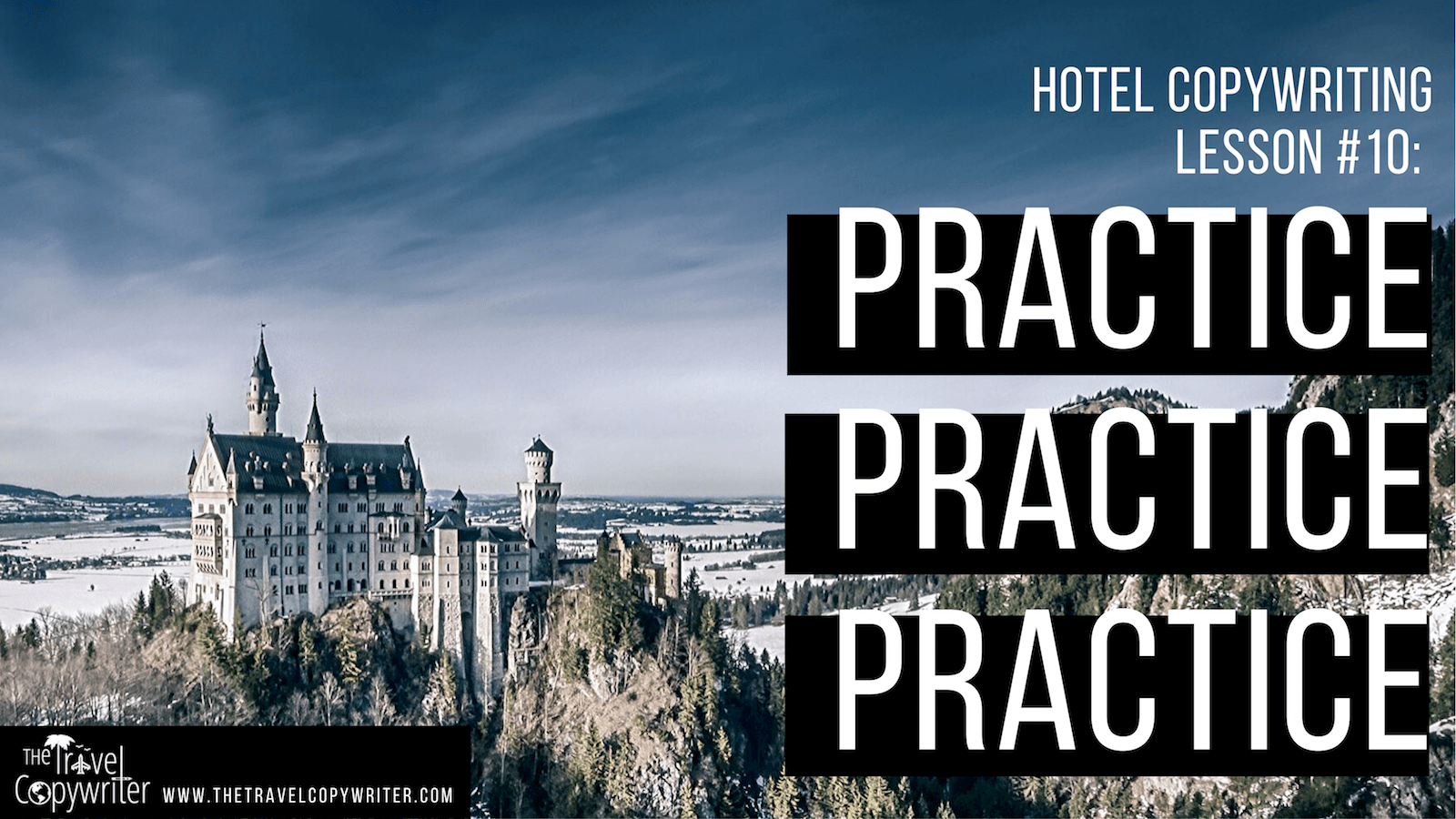 Forget the promise of "practice makes perfect." Perfection is too lofty a goal. It can stop you in your tracks, before you even start.
So, let's focus on "practice makes better."
Little kids are good at this. They don't seek to paint a photorealistic cat; instead, they just want to draw the cat better than they did last time.
Kids' whole lives are about practice: They practice eating with utensils. They practice picking out their own clothes. They practice their handwriting. And then, they keep practicing.
Hotel copywriting is like that: It takes a lot of practice to get good. So, get started. Now. Because, the more you practice – the more you try writing with a goal, writing for bookings, writing for conversion – the more goals you'll fulfill, the more bookings you'll get, the more conversions you'll see.
Bottom line: There is no time like the present. Writing is like a muscle: You must exercise it to get better. And better is how you achieve your goals. Not your forte? You can also exercise your option for some help!
Lesson #11: Keep it Simple
When's the last time you heard a kid utter a 15-word sentence full of 5-syllable words? Unless she's precocious, the answer is never.
Kids speak simply. They're not caught up with "sounding smart." They say what they mean, no need to edit into something more complex.
Travel is not a technical subject. Therefore, your travel copywriting need not be complex.
Why say, "Our job is to facilitate your pre-trip planning. We take pleasure in being of assistance. Let the planning commence!"
When you could say, "Need some help planning your vacation? We love our destination – and love sharing it with you! Get started planning."
Write the way you speak – in simple language. And, if you think your hotel copywriting could use some simplification, run it through an online readability test. Green means go.
Bottom line: Simple language doesn't make you sound simple; it makes you sound relatable. And, relatable is good.
Lesson #12: Don't Be Pushy
When was the last time that insistence worked on a stubborn kid? Nigh on never, if my headstrong mini-me is any example!
No one likes to be strong-armed. No one loves the stereotypical used car salesperson. No one wants to be sold to. 
Today's travelers are savvier than ever before. The pick up on your sales tactics and psychological triggers. They don't want to feel like you're trying to pull the wool over their eyes. They want the truth and then, they want to make their own decisions.
So, instead of being pushy, be convincing. Have a conversation. Demonstrate why and how you are the right decision. Be a friend and an advocate.
Bottom line: Approach your travel copywriting back-to-front – from the foregone conclusion that travelers will make their own, informed decisions. In other words, you're not trying to force them into a decision, but rather providing proof that they've made the right one.
Lesson #13: Challenge Your Assumptions
You know the expression, "to walk a mile in someone's shoes"? Copywriting is exactly like that.
Starting somewhere around preschool, kids get really good at empathy. They're learning about emotions and their new friends – and about how to be a friend. They ask why Friend A is sad or Friend B got scared at the sleepover. They want to understand human motivations, even if they don't phrase it as such.
Successful hotel copywriting is about seeing the world – your world – as travelers do. And, often, they have a different point of view than you do.
So, put aside your beliefs and assumptions. Don't expect travelers to know what you know, or to understand what you understand. Embrace a sense of wonder. Because your travelers already have.
Bottom line: See your hotel (and destination) through the eyes of your target audience. Powerful travel copywriting isn't about how you see the world, but how they do.
Lesson #14: Go for the Ask. And Then, Ask Again.
I know, I said not to be pushy. And that's still true. But, even 3-year-olds know that the firmest "no!" can be negotiable.
Hotel copywriters know that, too.
To be clear, I'm not saying you should push for a booking, over and over. Because, that would be the definition of pushy. It would turn travelers off.
What I am saying is that you can go for the ask – all your myriad asks – in different ways, in different locations throughout your site. Place your CTAs organically and logically and see how well they work.
Bottom line: Your site needs more than one call-to-action. And your copywriting should ask in more than one way. Phrase your asks in non-pushy (in other words, helpful and logical) language, and place them in the right spots, and more travelers will take you up on your offer.
Not sure how to get that perfect phrasing and placement?
(See what I did ☝ there? ☝)
4 Ways to Use These Lessons Right now
Run a content audit: Head over to your website (your email newsletter, your blog, your everything) and assess your content based on the lessons above: Swap passive voice for active voice. Cut the complication. Employ various calls-to-action. Be better.
Start writing: Throw yourself into writing new content. Don't worry about the details; just get started. If not right now, then carve out some agenda space right now. The point is to do it.
Ask questions (or comment) below: Comment below (or email me) with your questions. Share your findings. Let's talk better hotel copywriting.
Take the next step: Ready to take your copy to the next level? Request a free consult and let's chat.