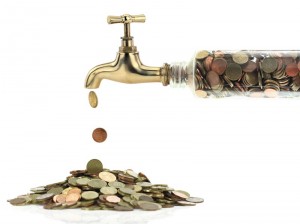 "What do you charge for travel copywriting?"
It's the first question most clients ask. So it may be shocking to hear that this should really be the last question you ask. The very last.
The same holds true for copywriting. I know how important your budget is but when it comes to content, price not the most important thing. You need to identify value. A $500 investment in good copywriting is always better than a $500 investment in crap. Even if that crap is "SEO optimized." (Translation: If they brag it's SEO-optimized, it probably won't be human-optimized.)
What Does Copywriting NOT Cost?
Before we jump into the nitty gritty, let's get this out of the way: Copywriting doesn't cost $5/article. It doesn't even cost $10 or $20 or $40 an article. In fact, if you're being quoted per-article, that's your sign to sayonara. Remember: rock-bottom prices get you rock-bottom writing. Short-term savings aren't worth the long-term cost of losing business. Or worse, going out of business.
How to Find a Good Copywriter
Finding the right copywriter for your travel business is essential to success (and your satisfaction). You have to take many factors into consideration, but let's start with the basics:
Good listening skills: Your copywriter should listen more than she talks. You know your business best. You understand your unique offerings. She needs to understand your product or service before she can tell your story.
Experience in the industry: Many copywriters could do a good job, but you want great writing. You want content that excels, every time. And for that, you need someone with existing knowledge of the travel, tourism and hospitality industry.
Lots of questions: If you feel like your copywriter is conducting an interview, grab on and don't let him go. Lots of questions now means better results later.
Know-it-all NOT: Look for a copywriter who doesn't know everything. A copywriter writes stellar copy; she isn't a writer and an SEO and a designer and a programmer, all rolled into one. Chances are, if someone offers all these services, you won't get the best (or even the acceptable) of anything.
Customized pricing: Just like you don't want the cheapest writer in town, you don't want to hire someone with one-size-fits-all pricing. Your company and your needs are unique, and your quote should be, too.
Flexibility: A good copywriter can make his services fit your budget. He'll find solutions to meet your needs.
Enough Already. What Does Travel Copywriting Cost?
Let's start with this: What, exactly, do you want written? A 10,000-word hotel website with 25 subpages is a very different animal than 10 different 1,000-word brochures. The cost of copywriting is a combination of project scope, research time and word count, plus the value of your writer's expertise. And that is why "how much?" should be the last question you ask – because how much depends on you.
That said, most projects fall within a certain range:
$1,000-$2,500: This is for the average brochure or small travel website, usually for restaurants or boutique hotels. You already have some bare-bones copy, but need to improve what's there and incorporate additional content. At this price, don't expect in-depth interviews, travel guides or other research-heavy copy.
$2,500-$4,000: This range applies to when you already have some content but need extensive additions to your website. Examples include large hotels, travel agencies and major tour operators. Your budget will afford you deeper content, like travel guides and related copy for your region.
$4,000-$10,000+: This is when you need a large website (hotels, travel agencies, restaurants, etc.) built from scratch – or rebuilt from the above-mentioned crap. You have zero or very little existing material, so your copywriter will spend a lot of time asking questions and honing your copy's style and content to meet your exact needs.
And that's the short of it – the pricey but valuable truth about the cost of copywriting.
Need a quote on an upcoming project? Contact me!