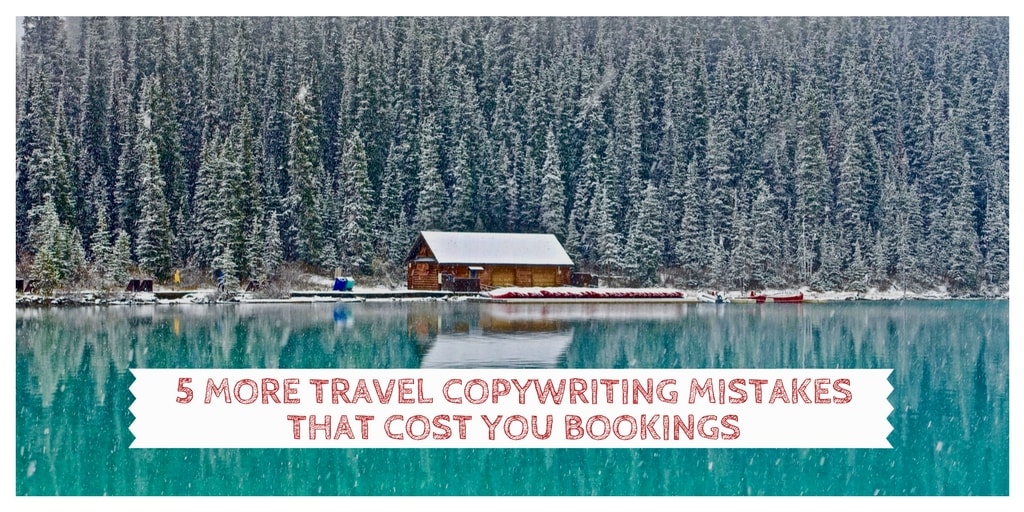 (This post is Part 2. Before you read any further, you may want to brush up on the first 5 travel copywriting mistakes that are costing you bookings.)
Here's a copywriter secret for you: Copywriting is a pretty straightforward kind of deal.
That's not to say it's formulaic – the best kind of copywriting depends heavily on the client and target audience – but it is a science.
And that means, there are rules that we copywriters follow. There are definite dos and don'ts. Don't focus on features. Do focus on benefits. Do spend lots of time brainstorming killer headlines. Don't rely on clichés and hyperbole. Do keep your writing simple and descriptive.
Etcetera, etcetera.
There are reasons behind these rules. Those reasons are based on buyer psychology, science, user experience, and other tried-and-true copywriting rules, honed over decades of marketing successes and misses.
All this to say, copywriting is relatively straightforward because there's a mostly-right way (and a mostly-wrong way) to do it. If you deviate from these rules, disaster may follow. The easiest solution: Don't. Don't make these travel copywriting mistakes, and you're already halfway to effective copy that makes connections, appeals to travelers, and gets more bookings. Yes, as easy as avrupa yakası escort that.
Mistake #6: You Have No Story (or, Your Story is Void of Personality)
Don't: Underestimate the personal connection.
Storytelling isn't just for kids, folks; we all love a great story. So if your website, your blog, your social media, your everything isn't telling your story, then you're missing out on an important opportunity. You're missing out on making personal connections with travelers.
Do: Get personal.
Travelers love to know the person behind the curtain, especially if you're operating a small- to medium-sized business. Use your About page as a showcase: Who are these B&B owners? How did you get into the vacation rental industry? Why did you launch a family-focused travel agency? Tell your story, and tell it with personality. Not everyone will read it, but it'll make a difference to the ones who do.
(p.s. Storytelling doesn't stop at your Home or About page: Make sure your voice shines through every, single piece of copy you publish.)
Mistake #7: You Don't Tell Visitors What to Do
Don't: Expect people to know what to do next.
This is possibly the biggest, most BLARING (worse than glaring!) travel copywriting mistakes I see on industry websites: You either don't have travel calls-to-action (CTAs) at all, or your calls-to-action aren't effective.
Do: Show travelers how to do whatever it is they already want to do.
The long and the short of it is this: your CTAs guide travelers to the how of what they already want to do. So, if they want to peek inside your rooms, link to your Rooms page. If they want to download your free travel guide, create a big button that invites site visitors to "Download Our Free Travel Guide."
My simple CTA cheat? I ask every copywriting client, "What is the ultimate goal of your website?" Then, we get more specific: "What is the goal of this individual page?" "What is the goal of this blog post?" "What do you want travelers to do next?"
Defining the goals for a given piece of content – and psst, your goal should always be to deliver what travelers already want, NOT what you want them to want – will help you target your CTAs and build a booking path that feels natural, not forced. Because no traveler wants you to strong-arm her into booking before she's ready.
Also, contact information is a CTA unto itself. Remember to publish contact information (phone number, email address, contact form, etc.) prominently on major pages (like your homepage and blog sidebar), and to make it no more than one click away from any other page (ex. via menu bar).
(Cheat sheet: Everything you need to know about travel calls-to-action.)
Mistake #8: You Don't Know Your Guests
Don't: Try to appeal to everyone, everywhere.
Look, I get it. There's this fear that if you don't write for a very general audience, then you stand to turn off potential bookings. And that's true, but only on a minuscule scale. The truth is that there are very, very few off-brand travelers (ex. a starched business traveler at your feet-in-the-sand family hotel) who find their way to your website, decide they'd like to book with you, and are then be so turned off by persona-targeted copy (ex. copy written to appeal to families) that they'd abandon the booking.
You know what is a real fear? That your website is so generalized, so one-size-fits-all, that your core travelers aren't sufficiently tempted to book with you.
Do: Write for a specific traveler.
Buyer personas, as they're known in the marketing world, are fictional (yet based-in-reality) representations of your ideal customer. The question to ask yourself: Who is happiest when they stay at my vacation rental/book my hotel/plan their vacation with me?
Flesh out your personas. Go on, get specific: What are their travel frustrations? What is their dream vacation? What could you do that would make them blissfully happy?
Then, write for that one, specific persona (or several personas, although that's much harder). Write your entire website as if it were a love letter to that one type of traveler – to his dreams and motivations, his irritations and fears. Do this, and you'll have him hooked and booked before he even clicks the Inquire button.
Mistake #9: You Publish Poor Grammar & Spelling
Don't: Publish copy with grammatical or spelling mistakes.
Just don't do it. There will be people who catch your mistakes and, whether you think it should or should not matter, it will matter. There will be travelers who question your professionalism if your website, or marketing email, or even your blog (albeit to a lesser extent, thankfully) publishes egregious errors.
(I know, I'm just asking for it with this one.)
Do: Take your time. Revise, revise, revise!
The easiest way to fix mistakes? Take a break between when you finish writing and when you come back to revise and edit. Use MS Word's built-in spelling and grammar check. Run external grammar checks (ex. Grammarly). If you need to, hire an editor. But whatever you do, publish only well-written copy.
Mistake #10: It's All About  You, You, You
Don't: Focus on you. Your features. Your awards. Your blah, blah, blah.
It's one of the hardest things to wrap your head around (and also one of the most common travel copywriting mistakes, natch), but travelers don't care about you. They don't care about your great hotel reviews or your awards or accolades – at least, not in the way you think they do.
Do: Focus on how you can benefit travelers.
When people visit your website, the question bouncing around in the back of their heads is always, "What's in it for me?"
And if you don't answer them quickly, POOF!, they're gone. A booking, forever lost.
Bottom line: They don't care about you, or your hotel, or even your features; they care only about how you, and your hotel, and your features can benefit them. How you'll make their trip better.
So, what do I mean by this? Here are two examples: 1) Travelers don't care that your beds have 800TC sheets (feature); they care that they'll never want to get out of their comfy beds (benefit). 2) They don't care that your vacation rental has a fully equipped kitchen (feature); they care that their early-riser kids can serve themselves cereal while the adults sleep in, and that when the adults finally wake up, they can help themselves to freshly brewed coffee (benefits).
And there you have it: 10 of the most common, most expensive travel copywriting mistakes you can make. And a subsequent ten solutions to get you more bookings. Because yes, again, it really is as easy as that.
4 Ways to Use This Information Right Now:
Do a Site Audit: Check your website (start with the most important pages) for these 10 travel copywriting mistakes. Identify as many as you can find and then prioritize the most important should-have-been-fixed-YESTERDAY! errors. Then, start fixing them.
Ask for Help: Tap a colleague or two to help you assess your existing copy. (Share this post, so they know what to look for.)  Can they find any mistakes you've missed? Put your heads together, and you'll probably come up with twice the ideas for how to improve your travel copy.
Share this post socially: Ask your social networks how they've improved their hospitality copywriting.
Ask questions (or comment) below: Let's start a conversation about travel copywriting mistakes (and how to avoid them). Discuss challenges you've faced, ask for suggestions, and share the solutions you've discovered.