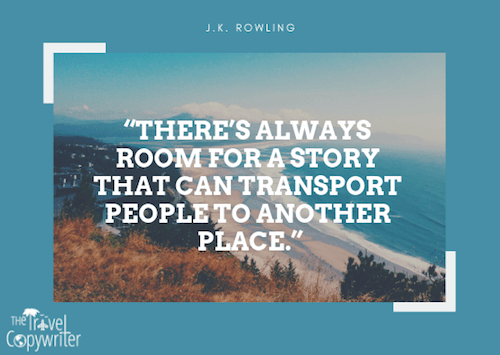 For time immemorial, humans have told stories. Gathered 'round the fireside, on the laps of our parents, agog before a museum painting, in the embrace of a favorite reading chair – we crave stories and how they make us feel.
Be they the lyrical prose of epic poems or crudely scratched paintings on cave walls, beautifully bound tomes or water cooler chat-worthy Super Bowl ads, we love stories. Stories are the framework to understand our world and to spread ideas.
Even if I didn't say that stories are necessary for human survival or mention the most recent neurological research behind stories, you'd already know – we, as humans, seek out great stories.
You – yes, you – did it. When you were little and every once upon a time captured your attention. When you were a little older, and you became engrossed in your first favorite TV or book ataşehir escort series. And even now, when a good TED Talk gets your click. You, we – all of us – we love a good story.
And so, it should come as no surprise that your travel marketing needs stories.
It's what The Industry calls "brand storytelling" but more importantly, it's what you should call your own.
Because, in no industry is this more true than in travel. Storytelling is a direct connection with travelers. It is how you say "I am what you're seeking." My hotel, my vacation rental, my tour, my travel – this is the story that fits your existing internal travel narrative.
Without storytelling, you are not a travel brand. Instead, you are a travel product, a mere commodity. You are a checklist of features and amenities – nothing more. Easily substituted.
Tell your story, and you are something else. You become a tangible, dream-worthy, reachable travel goal. You become a brand. You are the story that travelers tell themselves, to justify the purchasing decisions they want to make.
I promise to dive deeper into the subject of storytelling for travel brands but, for the moment, I'll leave you with this: 16 curated storytelling quotes, to inspire your own travel brand storytelling:
16 Quotes (+ My Takeaways) to Inspire Your Travel Brand Storytelling
1. "Most people can't hear until they've been heard." ~ Red Scott, Businessman
Takeaway: Travel brand storytelling starts with a traveler: Who is listening to you?
2. "The purpose of a storyteller is not to tell you how to think, but to give you questions to think upon." ~ Brandon Sanderson, Author
Takeaway: Tell a great story, but leave a little mystery in it.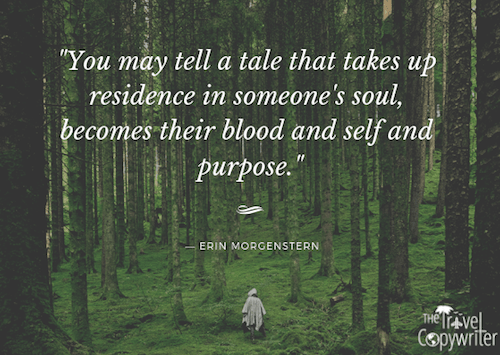 3. "You may tell a tale that takes up residence in someone's soul, becomes their blood and self and purpose. That tale will move them and drive them and who knows that they might do because of it, because of your words. That is your role, your gift." ~ Erin Morgenstern, Author
Takeaway: Travel is transformative. Moving travel stories can be the same.
4. "It's like everyone tells a story about themselves inside their own head. Always. All the time. That story makes you what you are. We build ourselves out of that story." ~ Patrick Rothfuss, Author
Takeaway: Be sure your stories build travelers.
5. "Marketing is no longer about the stuff that you make, but about the stories you tell." ~ Seth Godin, Author, Entrepreneur & Marketer
Takeaway: The story you tell about your hotel/vacation home/tour/etc. is more important [in marketing] than the hotel/vacation home/tour/etc. itself.
6. "There's always room for a story that can transport people to another place." ~ J.K. Rowling, Author & Screen Writer
Takeaway: Write your stories to transport travelers to you, and only you.
7. "Sometimes reality is too complex. Stories give it form." ~ Jean Luc Godard, Film director & Screen Writer
Takeaway: Hone in on a traveler's story, and then give it form with your own.
8. "The world is shaped by two things – stories told and the memories they leave behind." ~ Vera Nazarian, Science Fiction and Fantasy Writer
Takeaway: Tell a story that is memorable; travelers will be more likely to remember you.
9. "Stories tell us of what we already knew and forgot, and remind us of what we haven't yet imagined." ~ Anne L. Watson, Author
Takeaway: Spark imagination.
10. "People think that stories are shaped by people. In fact it's the other way around." ~ Terry Pratchett, Author
Takeaway: Your travels stories can shape purchasing decisions.
11. At its very core, marketing is storytelling. The best advertising campaigns take us on an emotional journey – appealing to our wants, needs and desires – while at the same time telling us about a product or service." ~ Melinda Partin, Multimedia Producer & Digital Marketing Director
Takeaway: Travel is emotional by nature, so be sure to stoke that fire.
12. "Story is a yearning meeting an obstacle." ~ Robert Olen Butler, Author
Takeaway: Inspire yearning, then be the solution to overcome the obstacle.
13. "Storytelling reveals meaning without committing the error of defining it." ~ Hannah Arendt, Political Theorist & Philosopher
Takeaway: Never define or confine; tell an open-ended travel story into which travelers can insert themselves.
14. "We are, as a species, addicted to story. Even when the body goes to sleep, the mind stays up all night, telling itself stories." ~ Jonathan Gottschall, Author
Takeaway: Be the dream travelers tell themselves at night.
15. "I think the best stories always end up being about the people rather than the event, which is to say character-driven." ~ Stephen King, Author
Takeaway: All travel brand storytelling begins with your personas.
16. "Storytelling wasn't about making things up. It was more like inviting the stories to come through her, let themselves be told." ~ Jennifer McMahon, Author
Takeaway: Be authentic. The stories will come.
Shhh! ↓↓↓ Storytelling Secret Below ↓↓↓
You've made it all the way here, which means you're genuinely interested in storytelling for travel. Well, then here's a sneak peak – a just-here-and-nowhere-else invite to a joint upcoming free webinar, Travel Brand Storytelling. Reserve your spot today!